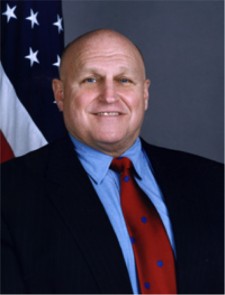 Secretary Armitage will discuss opportunities and challenges for the United States in the Western Pacific at the 2nd Annual Donald W. McCarthy Heartland Leadership Forum.
MINNEAPOLIS, March 5, 2018 (Newswire.com) - Even in today's crowded global news landscape, there is perhaps no region that has drawn more of the world's attention than the Western Pacific, and attendees of a Twin Cities Leadership Forum this spring will have the opportunity to have their questions about the geopolitical and business hotspot answered by a recognized expert.
On April 19, the 2nd Annual Donald W. McCarthy Heartland Leadership Forum will welcome Former Deputy Secretary of State Richard Armitage to speak on "Opportunities and Challenges for the United States in the Western Pacific." The forum is presented by U.S. Naval Academy Alumni Association Upper Midwest Chapter and will feature a reception and dinner in addition to remarks and Q&A with Secretary Armitage. It will take place from 5-8:30 p.m., April 19, at the McNamara Alumni Center on the University of Minnesota campus.
Richard Armitage is a distinguished Naval Academy graduate, class of 1967, who served three combat tours with the riverine forces in Vietnam. He was the 13th Deputy Secretary of State from 2001 to 2005. An acknowledged expert in international affairs, he was recently awarded the Department of State Distinguished Service Award and he has been personally recognized by the governments of Thailand, Republic of Korea, Bahrain, Australia, New Zealand, Romania, and Pakistan. He is active in the global marketplace assisting multinational companies in the areas of international business development, strategic planning and problem-solving.
The Heartland Leadership Forum was launched in 2017 and named in honor of Minnesota's own Donald W. McCarthy, a graduate of the Naval Academy's Class of 1944. McCarthy served in both World War II and the Korean War before climbing the corporate leadership ladder with Northern States Power (now Xcel Energy) to become Chairman and CEO. During his illustrious career, he led many community organizations that helped to shape the Twin Cities metro area to become the vibrant business and social community it is today. McCarthy passed away earlier this year and will be honored during a remembrance at this year's forum.
The Forum is sponsored by Land O'Lakes, Hubbard Broadcasting, BAE Systems, Great River Energy, Xcel Energy, Magenic, Global Minnesota, and the University of Minnesota's Technological Leadership Institute.
For more information and to register for the Donald W. McCarthy Heartland Leadership Forum, go to www.usnauppermidwest.org. Tickets are $75 through March 7 and $90 regular pricing. Student and active duty discounts are also available.
About the U.S. Naval Academy Alumni Association Upper Midwest Chapter
Our mission is three-fold. We are dedicated to the perpetuation of the Naval Academy as an institution of national leadership development; we advocate for the continued call to leadership for all alumni. We engage our alumni and the broader naval services community to raise the public profile of the Navy and Marine Corps in the upper Midwest. Finally, we seek to educate our community about important global issues by bringing preeminent military and political leaders to the local stage.
Source: The Event Group, Incorporated
Share: