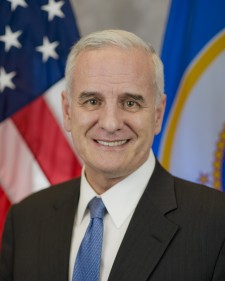 Minneapolis, MN, October 10, 2017 (Newswire.com) - ​Gov. Mark Dayton, who earlier this month signed a proclamation declaring October "Cybersecurity Awareness Month" in Minnesota, will help welcome attendees from 28 states and 6 countries to the 7th Annual Cyber Security Summit in Minneapolis.
Gov. Dayton will deliver remarks during the Summit's first full day on Oct. 24 between 9:50 and 10 a.m. at the Minneapolis Convention Center. Gov. Dayton is among 38 governors who pledged at a meeting of the National Governors Association this summer to make cybersecurity at top priority. In a release earlier this month, Gov. Dayton noted, "Strong cybersecurity is critical to protect our citizens, our businesses, and our state from attacks online. As these threats increase in volume and sophistication, we must invest in critical upgrades, technology, and talent to keep Minnesotans safe and secure online."
Strong cybersecurity is critical to protect our citizens, our businesses, and our state from attacks online.

Mark Dayton, Governor of Minnesota
The 2017 Summit kicks off on Oct. 23 with a series of half-day events, including sessions targeting investors, developers, and a new workshop focused on health care and medical device security. The main Summit opens on Oct. 24 and is divided into two sections - "Day 1: Meet the Threat" and "Day 2: Beat the Threat." Topics covered during the Summit include ransomware, phishing, the Dark Web and more. There is also a special session devoted specifically to helping small and mid-size businesses understand and mitigate their cyber risk.
Distinguished speakers at this year's Summit include Dr. Stacey Dixon, Deputy Director of The Intelligence Advanced Research Projects Activity (IARPA). The Washington, DC-based organization is part of the Office of the Director of National Intelligence and invests in high-risk/high-payoff research programs that have the potential to provide the U.S. with an intelligence advantage over adversaries.
A complete agenda and list of speakers is available at cybersecuritysummit.org.
About Cyber Security Summit
Cyber Security Summit is a public-private collaboration with support from industry, government, and university leaders who gather to discuss security trends and solutions. The 7th Annual Summit will bring together senior executives, risk managers, military representatives, policymakers, lawyers, academics, and technology leaders. Topics, content and speakers are driven by an Advisory Board composed of leaders from diverse critical infrastructure operators and commercial market sectors. Cyber Security Summit 2017 will take place Oct. 23-25 at the Minneapolis Convention Center.
Source: The Event Group, Incorporated
Share: